Sprinkler Installation Insurance in Wisconsin
What does sprinkler installers insurance cover?
Sprinkler installation insurance, also referred to as sprinkler installers insurance is general liability insurance.  General liability insurance is the primary or core insurance policy for your Wisconsin sprinkling installation business.
General liability insurance for sprinkler installation companies covers bodily injury and property damage claims.  There are several different limits of liability coverage, like $500,000/$1,000,000 and $1,000,000/$2,000,000, which is most common and required by many general contractors.  There can also be a property damage deductible.  This means you would pay the first say, $500, $1,000, or $2,500 if you were to be damaged something "other than" what you are were working on.  This should be taken into considered before purchasing your liability insurance policy.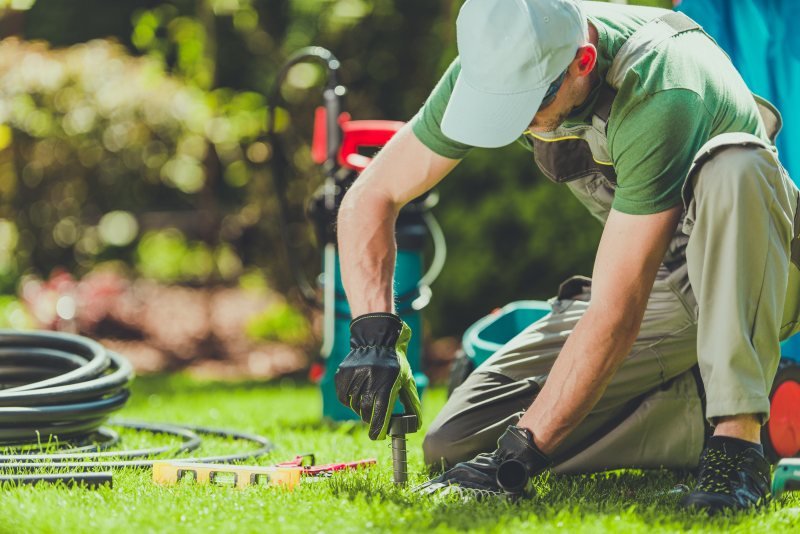 General liability insurance covers your premises, products, operations and completed operations.  Feel free to click here for a more detailed definition on Wisconsin general liability insurance:
How much does sprinkler installers insurance cost?
As independent insurance advisors, we firmly believe in shopping multiple Wisconsin insurance companies (for maximum savings).  Working with an experienced contractor's insurance agent is also important to finding low cost rates for sprinkler installers insurance.  Wisconsin sprinkler installation businesses might expect to pay $600- $1,100 per year for a start up with one active owner.  Sprinkler installation insurance is rated on payroll, sales and sub-costs, which may include materials.  A set rate is assigned to each active owner and then employee payroll is factored in.  Your sales are then considered and sub-contractor costs (normally including materials) are added.  Having a good claims record or history (loss runs), having years in the sprinkler installation industry and the size of your operations can have a positive or negative effect on your sprinkler installers businesses insurance premiums.
Tips on handling & purchasing Roofers Insurance in Wisconsin?
Sprinkler installers should do business with an independent insurance agency that specializes in contractor insurance. Most insurance agents will always want to sell you policy, but is it the right one for your business? One best for your needs now and in the future?  Our office specializes in Wisconsin contractor's insurance and will help you make the best choice for your sprinkler installation business.  An experienced insurance agent that works with contractor's insurance everyday really does make a huge difference.
We offer you a choice in sprinkler insurance programs. Working with multiple carriers and shopping the insurance market, offering you the best combination of price, coverage & claims service.  Sprinkler installation insurance / sprinkler installers general liability insurance can be difficult to find, especially if you are new sprinkler installation business in Wisconsin.
Some companies will rate sprinkler installation companies as plumbers. Our goal is to get you the sprinkler or landscaping classification.
Have a written contract signed with your subs. You need certificates of insurance for all sub-contractors BEFORE they start doing any work. The sub-contractor's contract should include a hold harmless agreement and specific sprinkler installers insurance requirements.  Some typical insurance requirements are:  additional insured, waiver of subrogation, go going and completed operations, primary / non-contributory language, per project, commercial auto coverage, workers compensation coverage (even if you don't have employees, a ghost or waiver policy), and a commercial umbrella policy.
Tools and equipment coverage maybe important to you too. Be sure and communicate this with your insurance agent.
Your agent should be familiar with the insurance audit process and even double check things for you, so you are not over charged.
An experienced contractor's insurance agent will help explain things, making it an easy process. You don't handle insurance every day, but we do and have your very best interests at heart.
 Let us compare your Wisconsin sprinkler installation insurance and help you choose very wisely. 
We help protect your sprinkler installation business, then we save you time and money.  We do this by shopping multiple Wisconsin sprinkler installers insurance companies to find you the very best coverage and fantastic rates.  By bring multiple sprinkler installation insurance programs to the table, giving you a choice in sprinkler installation insurance plans.  Helping you customize a sprinkler installation insurance program that is not only cost effective, but perfect for your growing Wisconsin business.
 Contact Us for a Quote
Let's talk about your sprinkler installation insurance and know we can help in several ways.  You know the sprinkler business in Wisconsin, and we know Wisconsin contractor's insurance.
If you are looking for sprinkler installation insurance in Wisconsin, you came to the right place.  We cover sprinkler installers and repair companies for both general liability insurance, commercial auto insurance and workers compensation insurance.   Read our BIO, then just pick up your phone or complete our quick quote form.  We make it super easy, very fast and extremely affordable.

[]
keyboard_arrow_leftPrevious
Nextkeyboard_arrow_right